In this Climate-Fiction novel, you'll jump a century ahead from now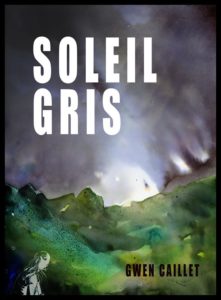 Under no Sun was written and published first in French in 2019 under the title Soleil Gris. It's a Science-fiction novel grabbing the climate change issues, sending us in a not-so-far future to meet three young people in European mountains.
I've now decided to mark the step and enter the process of translating it to English, on my own. Just because, you know, why not do it?
It is both fun and demanding to invent the appropriate vocabulary and tone of voice for that world and those surviving in it, one hundred years from now.
From Soleil Gris to Under no Sun, switching languages
I chose to push the game a step further and also offer it to readers online, one piece at a time, on the go. The process might be quite long, and the story won't unfurl itself as it did in the original book, as I'm doing it one character at a time, to preserve their voice and personality, while initially, each chapter was an intertwined three voices story.
Let's say it's an experiment, that may prove successful or a disaster, and really I don't care either way, as I'm more interested in the doing than in the actual result. However, as much as I may love the English language, it wasn't given to me at birth, and I expect to lose my path sometimes, thus the want and need for readers to accompany the writing, to keep the watch  and to alert me on any misplaced word or weird phrasing.
Ready to join the adventure?
So, if you wish to participate in the experiment and discover the newborn episodes of Under no Sun, please ask me for the code that open the documents, which are in restricted access.
And now, make yourself comfortable, grab a cup of tea, and start reading!